Byron L Warnken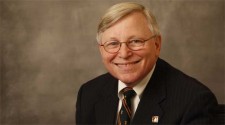 Warnken, LLC does things differently. We only handle cases, as primary counsel, that we feel we are the best fit for. This typically means workers' compensation cases, and some personal injury cases. For other cases, we find primary counsel best suited to your case. We serve as secondary counsel.  We do this because it makes the marketplace for personal injury and medical malpractice lawyers more efficient.  You don't necessarily know who to call.  You don't know the best personal injury lawyer for your case.  We know Maryland personal injury lawyers.
The statistics below are from firm founder and TV personality, Professor Byron L. Warnken. They represent stats through 2012 only. In addition, the firm office was in Towson, Maryland at the time the statistics were captured. The firm has since moved to Pikesville. Warnken, LLC meets clients throughout the Baltimore area and all over Maryland. Warnken, LLC represents the 2600 members of the Maryland Troopers Association, meaning the firm is truly a statewide practice.
InjuryLawyerDatabase.com was created by the son of Warnken, LLC founder Byron L. Warnken. The son, Byron B. Warnken, is also an attorney with Warnken, LLC and leads the firm's efforts to help victims of serious personal injury.